Co-founder
Janab Saiyid Hamid Saheb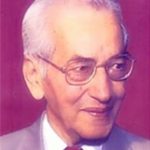 Janab Syed Hamid Saheb was the most perfect person who could help him translate his dreams of bringing the Muslims and the deprived sections of society into the daylight of educational enlightenment- This is what Janab Hakeem Abdul Hameed Saheb must have realized as he set out on his self imposed endeavour of bringing about social and educational equality in society.
Janab Hamid Saheb was born on 28 March, 1920. He completed his graduation and post graduation from Aligarh Muslim University. He served the Provincial Civil Services in the then United Provinces from 1943 to 1949. Thereafter he served the nation with distinction in various central ministries in different capacities till his retirement in 1980.
A ship is safest when it is in harbour but that is not where it is meant to be. After retirement Syed Hamid Saheb declined many offers of gubernatorial and diplomatic positions but accepted the Vice-Chancellorship of Aligarh Muslim University, his Alma Mater. He accepted and completed the tumultuous term gaining admiration of one and all for his courage, patience, and sagacity. He continued to be associated with various educational institutions and bodies in an honorary capacity throughout his life.
Janab Hamid Saheb devoted his life after retirement to the educational cause of the community. His heart and soul continued to be preoccupied with the overwhelming desire to lift the deprived mass of the society by making available to them opportunities of acquiring modern education. Janab Hamid Saheb was a person who could extrapolate to the consequences of current information when those were not obvious to others around him. The educational inadequacies of the Muslim community were constantly a source of concern to him. He was aware of the high school-dropout rates of Muslim male students while on the other hand he was also distressed by the fact that large number of Muslim girls were practically being deprived of school education by being made to stay at home. He knew that Muslims would not progress if their girls did not acquire modern education.
He was influenced by the vision and farsightedness of Janab Abdul Hameed Saheb and joining hands with him went on to help establish the Jamia Hamdard and take the Hamdard Education Society forward. Janab Hamid Saheb wanted to see increasing number of Muslims taking part in the national civil administration. He visited various universities and motivated students to sit for and qualify the Indian Civil Services examinations. With this mission in mind he, with the active encouragement of Janab Hakeem Abdul Hameed Saheb, established a small centre in Talimabad which started preparing candidates for the Indian civil services examination. He started this endevour in 1991 and 1992 saw success of the first batch of Hamdardians as Indian civil servants. The tiny acorn Janab Hamid Saheb planted has grown into a mighty oak known far and wide as the Hamdard Study Circle.
The Jamia Hamdard, which he helped in seeing the light of the day, in 1999 requested Janab Syed Hamid Saheb to become it's Chancellor which he remained till his passing away. In between he continued to be associated with educational institutions and committees in various capacities. He also discharged his duties as secretary of the Hamdard Education Society ever since its inception.
On 29 of December 2014 when the sun was drawing the curtain on the day, Janab Hamid Saheb sailed out of the safe harbor on a silent tide leaving his family and relations, contemporaries, acquaintances, well wishers and those who had merely heard about him mourning the irreparable loss.