The Founder
Janab Hakeem Abdul Hameed Saheb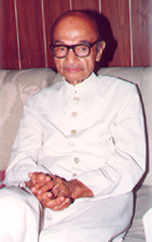 In 1947 when the country was passing through untold social and political upheaval Janab Hakeem Abdul Hameed Saheb was scouting for land he could buy and build schools for the thousands of Muslims and other weak sections of society that stood on the brink of illiteracy, and socio-economic subservience. Poverty was staring them in the eyes. Hakeem Saheb realized that without modern education Muslims would remain caught in the vicious circle of abject poverty. Modern education was needed so that the coming generations would step out into the world with the educational empowerment which would put them at par with others.
His foresight and vision saw him buying land in 1947 in what was then a foresaken forested area but is now an overcrowded locality known as Sangam Vihar. On this land Janab Hakeem Saheb laid the foundation of the Hamdard Education Society. This haloed campus was aptly named Talimabad. Hamdard Education Society, also known as HES has evolved as the apex body that runs several schools, coaching centres and the Hamdard Study Circle from here. It is one of the premier NGOs in the country concerned primarily with the education of minorities, rebuilding the nation through participation in civil administration, and the country-wide survey of Muslim managed schools and colleges. Hakeem Saheb also took up education and research activities establishing the Hamdard Charitable Trust in 1948 and the Hamdard National Foundation in 1964. He also established the Hamidia Charitable Hospital now known as the Centenary Hospital, and the Jamia Hamdard. Realizing the importance of education for the girl child he established the Rabea Girls Public School early in Old Delhi.
Hakeem Abdul Hameed Saheb's motto was austerity, simple living and selfless service. Throughout his life he practiced simple living and tempered it with great politeness, courtesy, and compassion in his dealing with all. A god-fearing person, and a philanthropist, Hakeem Saheb left for his heavenly abode in 1999 leaving his indelible footprints for us to follow.